1969 Vintage Original Rolex Explorer I ref. 1016 "Tiffany & Co"
What was the most expensive watch auction on eBay in November 2019 ? A 1969 Vintage Original Rolex Explorer I ref. 1016 "Tiffany & Co" ! The ending price of this rare pre-owned Rolex was $25100 ! Not a bad price for this model !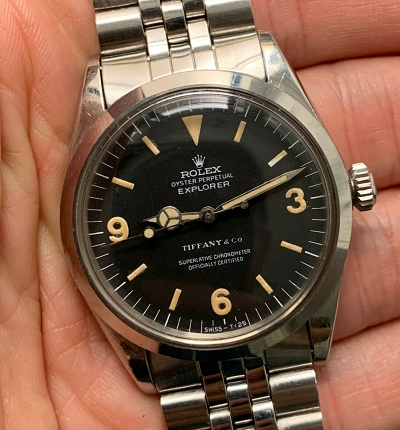 How many people bidded on that Rolex Explorer 1?
Authentic vintage Rolex from the 60s have many fans, for this model, there have been 69 bids from 36 different bidders. The auction started at $1 and reached the final price of $25100 in only one week.
Was it a mint-condition Rolex ?
Here is the official description of the online auction :
100% original dial with beautiful patina.
The case is in excellent original condition with sharp edges and sharp. Serial and model numbers clear between lugs.
Excellent jubilee bracelet dated 1971.
The watch is running, but has not been recently timed, serviced or regulated.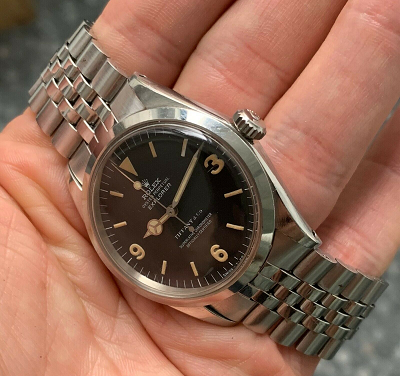 Where was it sold ?
It was sold on eBay USA on November 21st. As it is an old auction, you can't see the listing online anymore;=.
The seller is Amazing Watches, a famous watch retailer from New York, have a look to his other watches for sale on eBay here.
The identity of the buyer is private but he is a regular eBay buyer (435 reviews).
And if you like rare vintage Rolex, have a look to selection of rare Rolex on Watch-Deal. Everyday we select the best Rolex for sale online from various serious sellers.
METHODOLOGY :
- sold auctions only,
- we remove cancelled auctions,
- we remove auctions where a Best Price proposal has been accepted,
- we remove auctions from dubious sellers,
- we remove auctions with dubious winners to avoid auto-bidded auctions.
---